Posted on
July 17, 2021
in
MELROE SPRA-COUPE 3430 3630
We found an announcement for the launch of the new
Melroe

Spra-Coupe 3430 3630

and we believe there is no better way to display the attributes of these extraordinary machines.
Let's take a trip to 1993…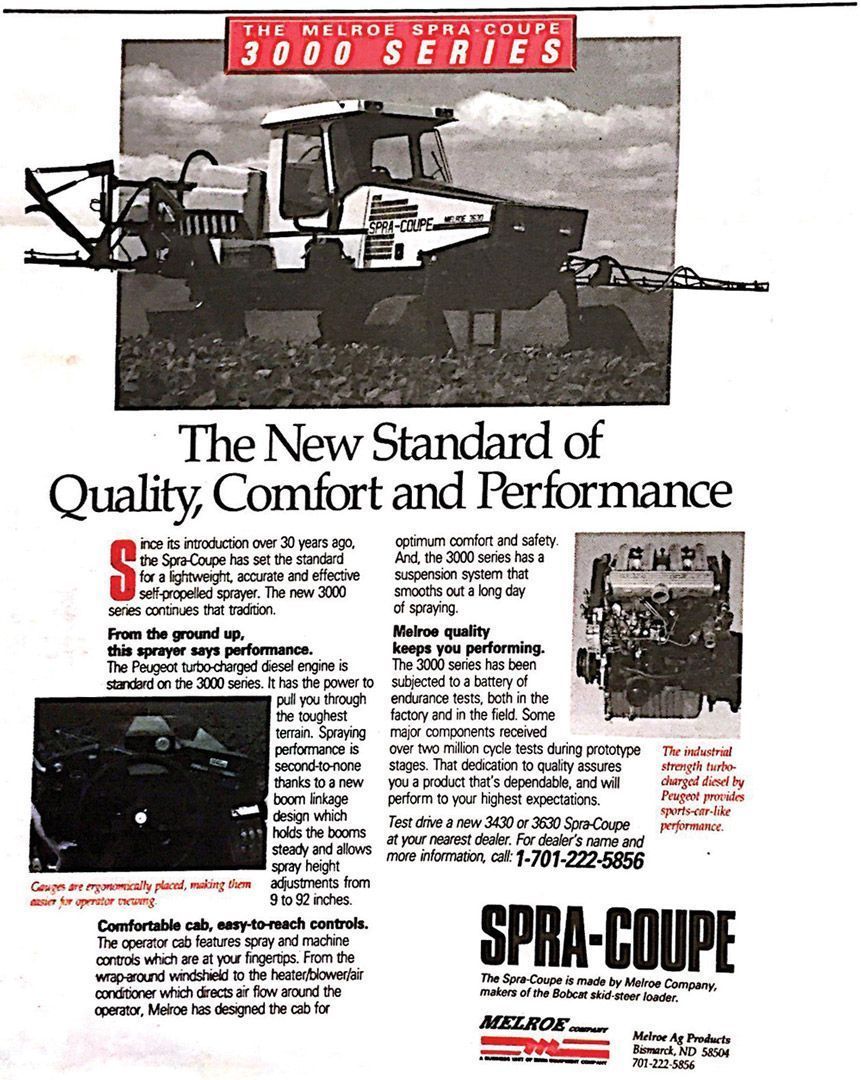 Do you own a Melroe Spra-Coupe 3430 or 3630?
Here the transcript:
The New Standard of Quality, Comfort and Performance.
Since its introduction over 30 years ago, the Spra-Coupe has set the standard for a lightweight, accurate and effective self-propelled sprayer. The new 3000 series continues that tradition.
From the ground up, this sprayer says performance.
The Peugeot turbo-charged diesel engine is standard on the 3000 series. It has the power to pull you through the toughest terrain. Spraying performance is second-to-none thanks to a new boom linkage design which holds the booms steady and allows spray height adjustments from 9 to 92 inches.
Comfortable cab, easy-to-reach controls.
The operator cab features spray and machine controls which are at your fingertips. From the wrap-around windshield to the heater/blower/air conditioner which directs air flow around the operator, Melroe has designed the cab for optimum comfort and safety. And, the 3000 series has a suspensión system that smooths out a long day of spraying.
Melroe quality keeps you performing.
The 3000 series has been subjected to a battery of endurance tests, both in the Factory and in the field. Some major components received over two million cycle tests during prototype stages. That dedication to quality assures you a product that's dependable, and will perform to you highest expectations.
Test drive a new 3430 or 3630 Spra-Coupe at your nearest dealer.
The Spra-Coupe is made by Melroe Company, makers of Bobcat skid-steer loader.
Do you own a Melroe Spra-Coupe 3430 or 3630?
Related posts